The Heart of Customer Engagement
Conversation is at the heart of any relationship. Beth is Generative AI that makes possible many more conversations with your potential and existing customers.
Helpful, personalised conversations whenever they need them - day or night. Customer experience that builds and nurtures relationships. Conversations that persuade and reduce buying friction.
Beth has expert-level intelligence - enough to be your customer's personal shopper, virtual dietitian, technology advisor, wardrobe consultant, trip planner... whatever helps them get what they came to you for.
Beth also collects strategic insights as she works - and her conversations will cost you machine cents rather than human dollars.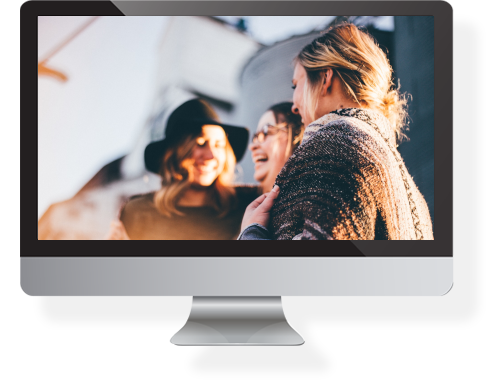 Engineered for Trustworthiness
A Generative AI agent must earn your trust and the trust of your customer before you can deploy it safely.
Beth is the first chatbot to combine Generative AI with a comprehensive governance framework. The framework provides your specific subject matter, then constrains any language model to that matter so that it has no need to hallucinate.
Beth's governance framework acts both before AND after the model to monitor for compliance, handle PII, manage prompts and output, and collect comprehensive records.
Join the Waiting List
Register your interest. We'll keep you up-to-date with progress and get you into our Beta Program as soon as we can.
Powered by YOUR OWN Facts
AI Language models are trained on a small subset of public domain knowledge. This means that your organisation's people, problems, products, services, facts and opinions aren't a part of the model's thinking. Either because you keep these private or because they're not deemed important enough to include.
Beth fixes this by giving the AI access to a knowledge graph. This is the same technology used by chat agents from Google, Apple, Amazon, Microsoft and the other information superpowers. The knowledge graph that Beth uses is your own - built from your facts and data.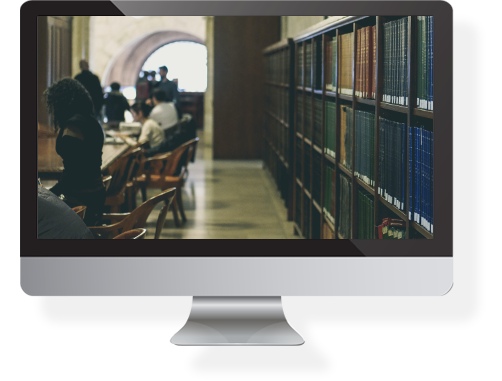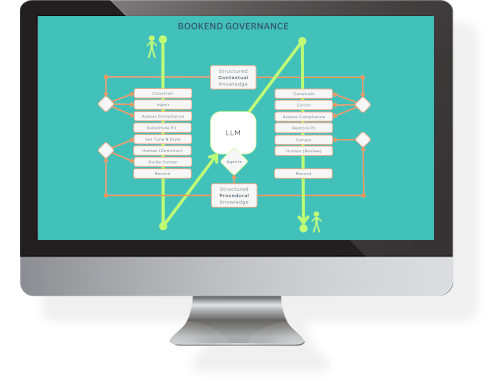 Knowledge Graph + Human = Safe AI
Carefully tuned formal knowledge structures are the only way to ensure that a Large Language Model won't hallucinate. A vector database of thrown-together documents just won't cut it. Safe AI also requires a human-in-the-loop - and not just as a passive observer.
Beth's Bookend Governance framework leverages graph and human to apply:
Formal (graph) knowledge structures .
Constraints on data use.
Human-in-the-loop at both ends of the LLM.
Chat-time injection of sensitive knowledge.
PII detection and substitution.
Compliance assessment.
Automated response testing.
Tone and style instruction and validation.
Records collection for tuning and audit.
We've Done the Hard Work For You
Your new knowledge graph comes pre-loaded with more than 80,000 common concepts and it already understands more than one million English words.
This comprehensive framework makes it possible for Beth to work directly with ChatGPT and other Language Models in a way that simple indexing - of words or vectors - can't match.
As you build your graph over this framework, Beth's Graph WorkSpace provides clean, relevant visualisations that make it easy for you and your team to formalise your organisation's knowledge.
Add. Test. Tune.
Beth's Graph Workspace has skills that no other chatbot, virtual assistant, knowledge graph tool or graph DBMS can match. Conversational English is all you need to add or change facts in your knowledge graph - and to test how those facts will be used by the language model.
You, your domain experts and anyone else on your team can now just "chat" with Beth to capture your organisation's knowledge and guarantee engaging, factual conversations. No-code and no PHD required.
Be Where Your Team and Your Customers Are
Your customers hang out in the Messenger, WhatsApp*, Telegram and Discord Consumer Channels. Your in-house knowledge consumers use Slack and Microsoft Teams Enterprise Channels. Beth gives you an AI presence in each of these, out-of-the-box.
You can also embed a simple chat widget script to put Beth into your own corporate, customer support and forum sites and onto your pages at partner sites.
Nobody knows yet just which roles and tasks will benefit from access to Generative AI. Beth's many channels let you experiment and provide ChatGPT functionality in every corner of your enterprise and its market.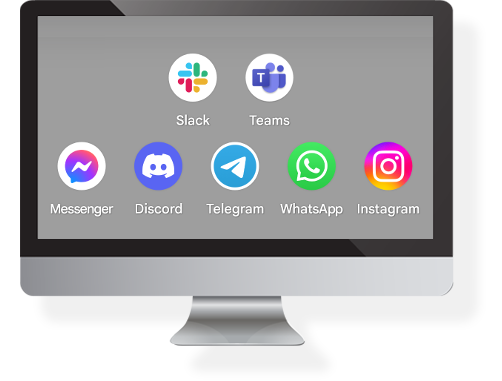 Try Some Channels
Websites, web applications and messaging channels you can test drive.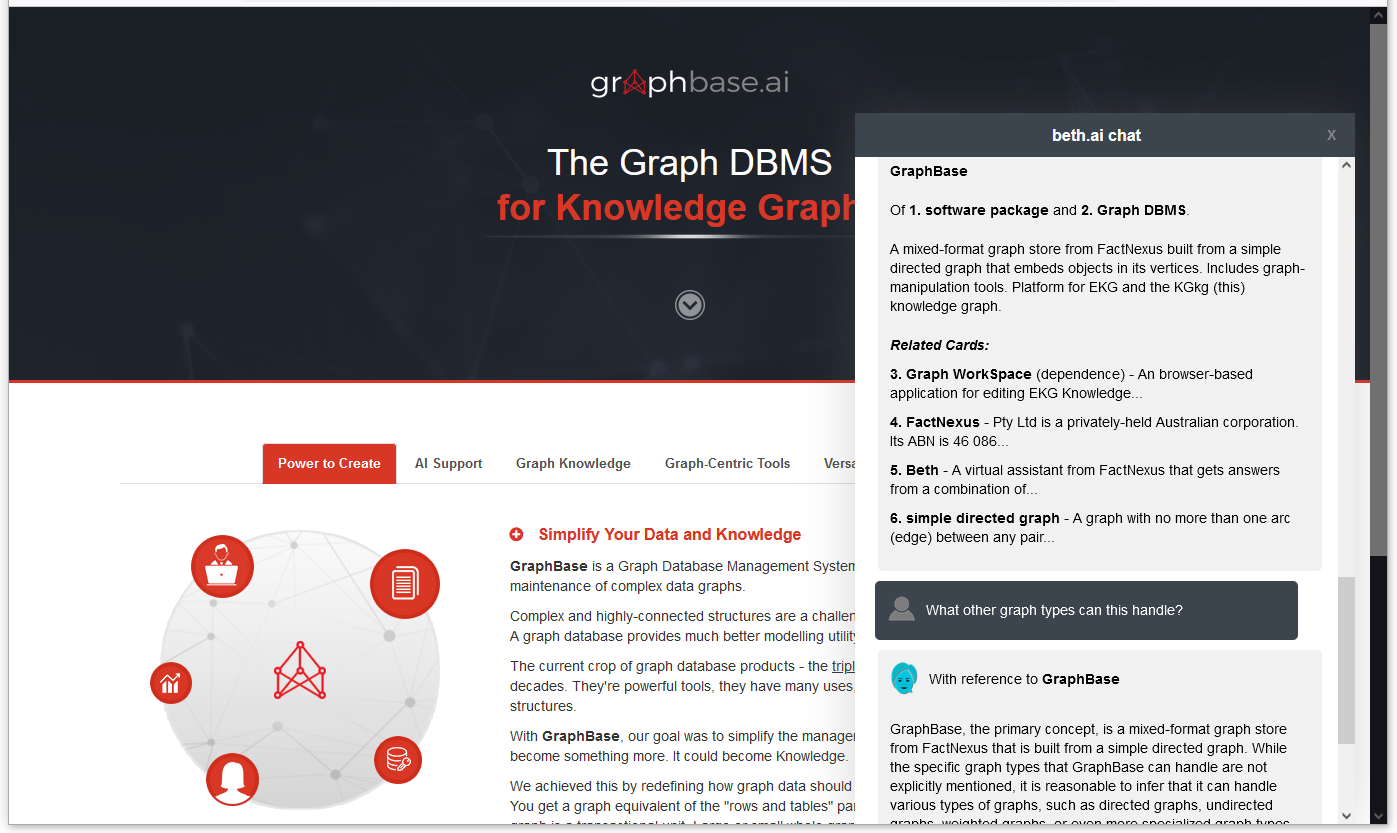 Website Agent
Your website is your front door. Add Beth to your pages or key partner pages to answer questions, simplify navigation or provide a gateway filter to your human support staff.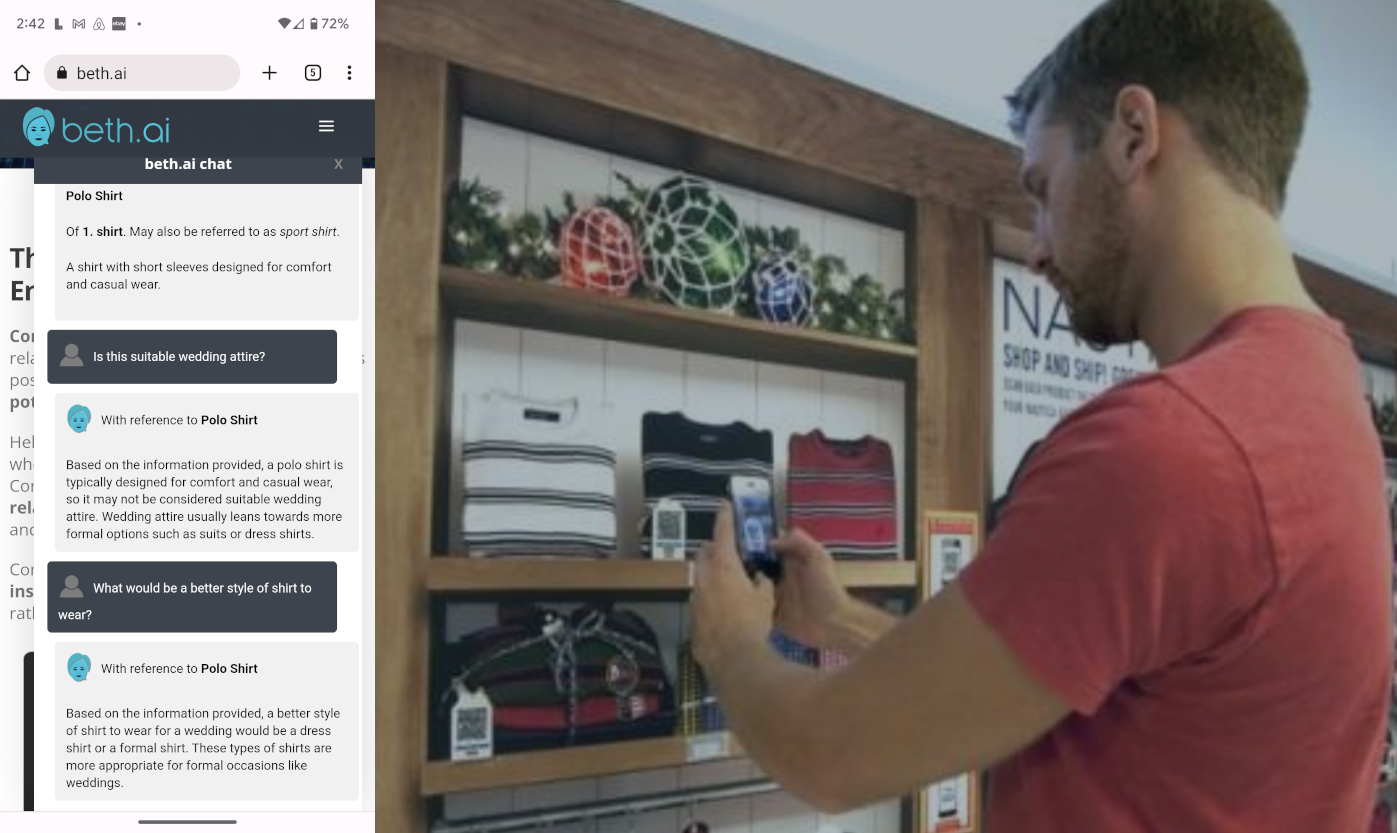 Point-of-Sale QR Codes
Add Beth to a product or promotion page, give it a QR Code - she'll provide much more information and advice than you can fit on product packaging or a printed display.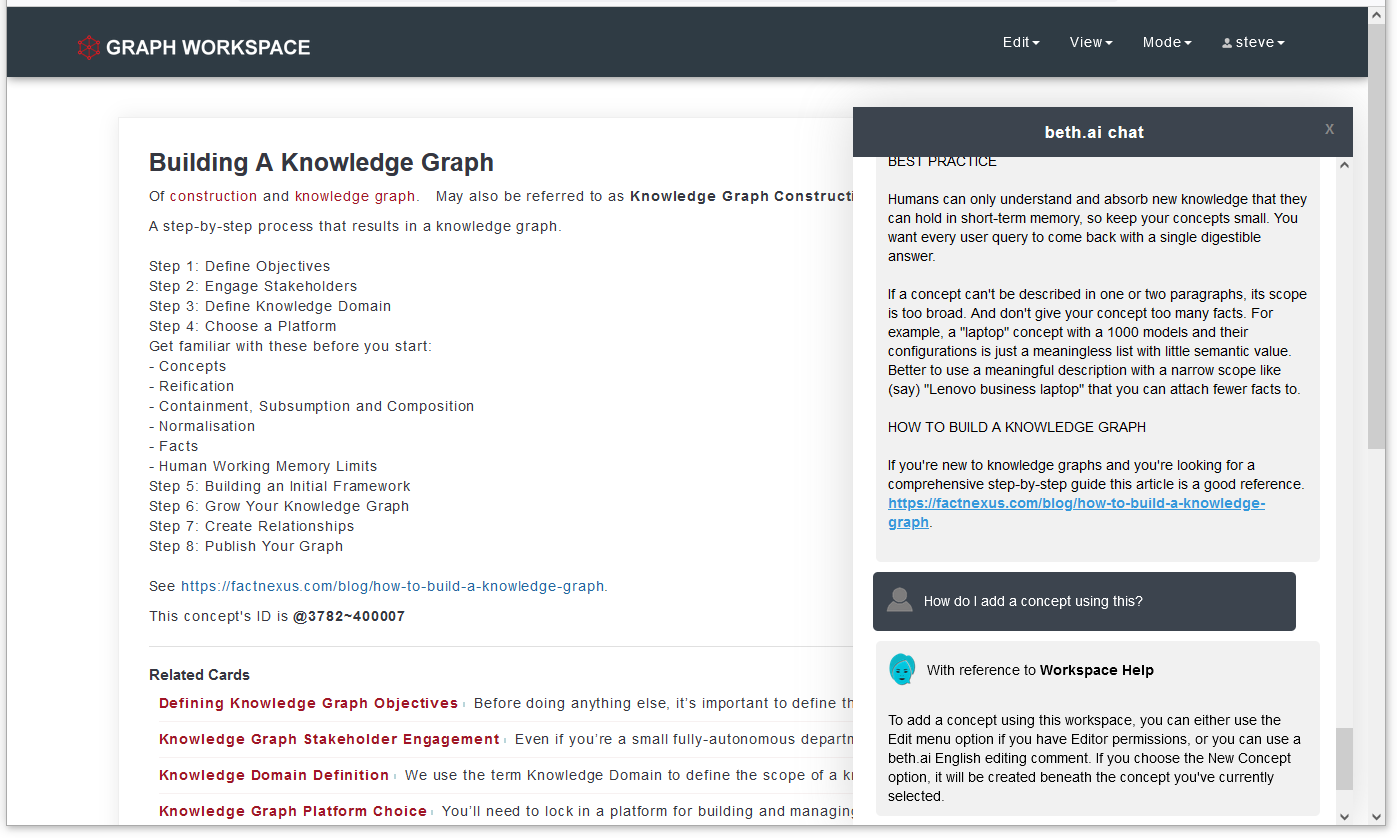 In-App Support
90% of enterprise applications are browser-based. Now you can trigger context-aware AI support from within your application just by adding Beth's javascript widget.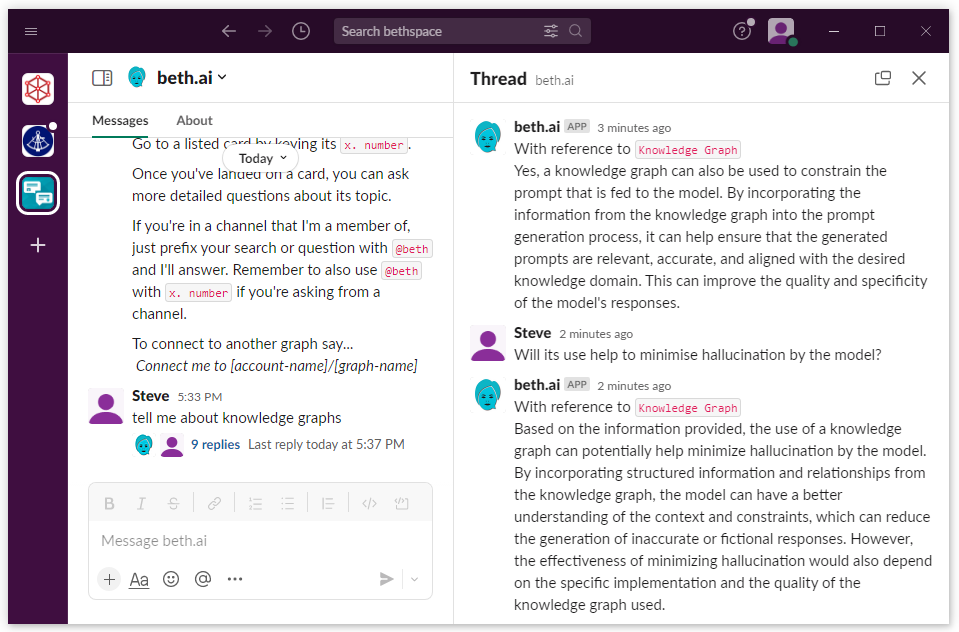 Slack
Add Beth to Slack and give your team in-app answers to any organisation, product or domain question. One click and they can also start adding to or correcting that knowledge.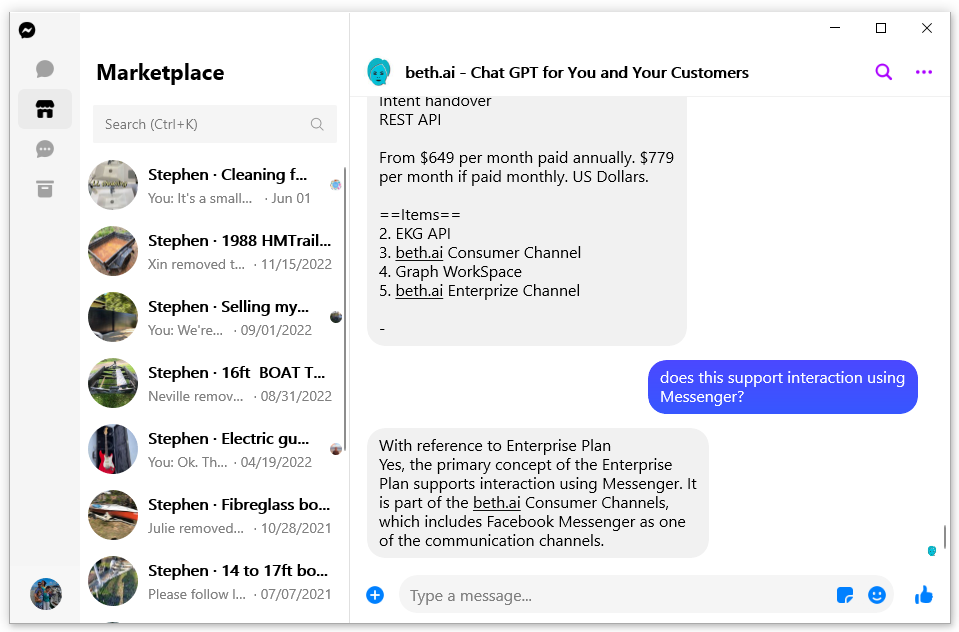 Messenger
1.3 billion people use Facebook Messenger every month and many of those are, or could be your customers. Connect Beth and make it easier for them to get their questions answered.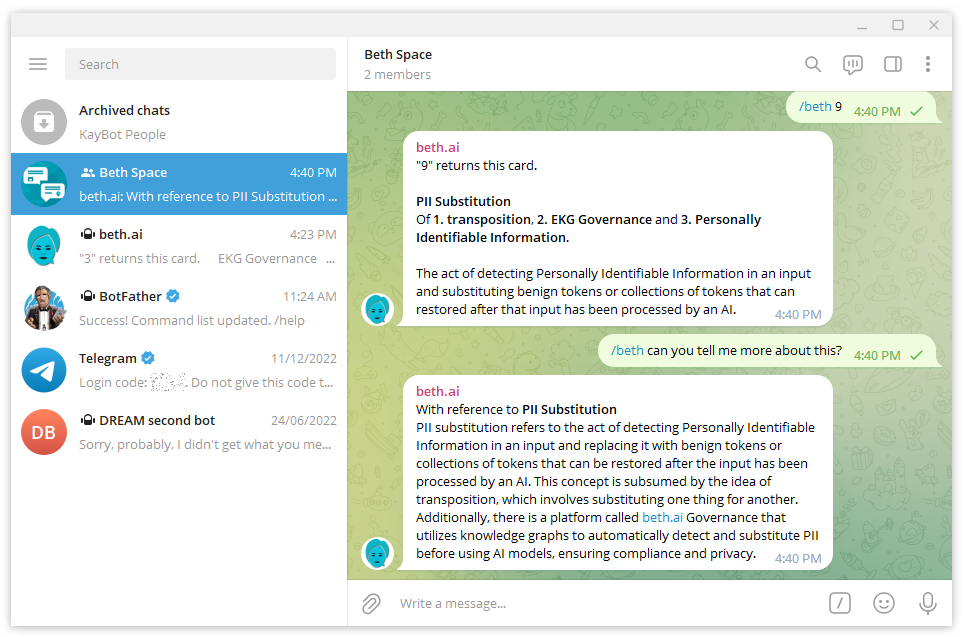 Telegram
Let your customers and followers get the official facts at any time by adding Beth to your Telegram Group or providing a link in your Channel.
Pay Only For the Answers You Need
Be up and running in minutes with industry-leading safety features including subject matter constraints, directed exploration and dossier injection.
$99/mo
Specialist
3,000 queries
Uses ChatGPT
All consumer channels
One Workspace user
Three on-demand graphs
20 stored graphs
Table-to-Graph import
Live chat handover
Intent handover
Paid annually. $119/mo if paid monthly.
$299/mo
Team
10,000 queries
Uses ChatGPT
All consumer channels
Enterprise channels
Three Workspace users
Four on-demand graphs
50 stored graphs
Table-to-Graph import
Live chat handover
Intent handover
Paid annually. $359/mo if paid monthly.
$499/mo
Business
20,000 queries
Uses ChatGPT
All consumer channels
Enterprise channels
Ten Workspace users
Five on-demand graphs
One always-on graph
100 stored graphs
Table-to-Graph import
Live chat handover
Intent handover
Paid annually. $599/mo if paid monthly.
Deploy agile Generative AI Customer Engagement solutions that can meet your present and future Enterprise Governance needs.
from $649/mo
Enterprise
Per query pricing
Bring your own models
Per CPU/min Graph pricing
Per user Workspace pricing
500 Credits (accumulating)
Procedural Knowledge Graph
All consumer channels
Enterprise channels
200 stored graphs
Table-to-Graph import
Live chat handover
Intent handover
Generative Insights
Talk to Us
Paid annually. $779/mo if paid monthly.
Large Language Models (LLMs like ChatGPT) and the practices for managing them are evolving rapidly. Applications to support them in Enterprise must evolve just as fast.
Beth's Enterprise plan gives you the tools for trustworthy AI from Day One. Those tools are built, however, so that you can continually adapt to the needs of an evolving LLM landscape.
Key to this flexibility is the ability to plug in language models that best suit your needs. Also key is Beth's Procedural Knowledge Graph that lets you define the "how to" for using, managing and controlling those models.
Beyond the primary Customer Engagement tasks, plugged-in models are used for:
PII detection
Early determination of query "intent"
Assessing compliance of prompt and response
Generating test queries from your graphed knowledge
Suggesting modifications to prompts and model outputs
Reviewing generated output for tone and style
Qualifying prospects and detecting buying signals
Providing strategic insights from conversations histories.
BYO models, supported by formal procedural knowledge, provide flexibility and agility. Beth's Enterprise Plan comes with seven day human support and guidance from the FactNexus team.
Frequently Asked Questions